About LTMC
LTMC (Little Tipsy Mostly Creative) was founded in 2021 in Hong Kong. A collective of multidisciplinary creatives, we specialise in creating bespoke spaces for a diverse array of clients.
Constantly pushing boundaries of our field, we have a penchant for the extraordinary. Just as one can slip into a new state of mind after becoming a little tipsy, we take clients on an personalized creative journey. Balancing meticulousness with ingenuity, we unlock fresh ideas and create unforgettable environments that rouse curiosity and awaken the senses.
At LTMC, we approach projects with a spirit of inquiry and exploration. We see every project as a person with its own soul, personality and temperament. Our aim is not only to bring to life into these distinct characters but to also create spaces that make you smile and want to discover more.
Our studio provides an extensive range of services across the fields of architecture, interior and furniture design. Our team takes a hand-on approach throughout every stage of the design process from drawing up initial concepts to ensuring high quality construction and accurate execution of ideas. Attuned to clients' needs, we are highly attentive, dedicated and flexible. While our designers are committed to working within allotted budgets, we are also known for our innovative solutions and out-of-the-box thinking which exceed clients' expectations.
With more than 15 years working across multiple disciplines with a range of clients from various cultures, our team has a unique perspective as well as strong project management and problem solving skills. Since opening our studio, LTMC has prided itself on excellent client relations. Beyond simply cultivating long lasting professional relationships, we build lifelong friendships.
Terence Or - Founder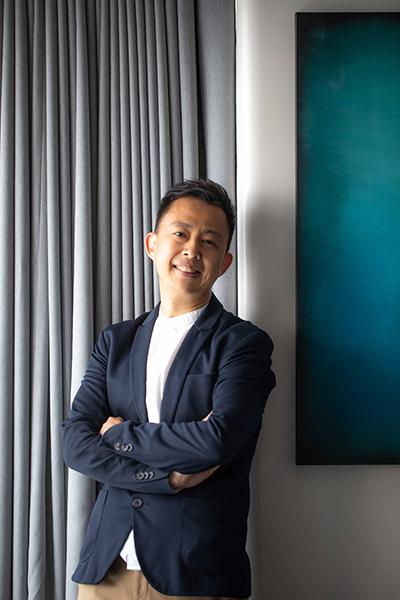 Terence Or is a multidisciplinary designer with more than a decade of experience working across the Asia-Pacific region. He founded LTMC (Little Tipsy Mostly Creative) in 2020, with a mission to create imaginative spaces and products that tell a story.
Terence graduated with honours from The Hong Kong Polytechnic University's School of Design with a Bachelor of Arts in Product Design. As a young graduate he was the second runner-up of the 2006 of Bombay Sapphire Designer Glass Competition, an international design contest, where his work caught the attention of esteemed judges Ron Arad and Patricia Urquiola.
He began his career at an innovative studio in Hong Kong focused on user-orientated, sustainable product design. He then went on to join the award-winning firm Steve Leung Design Group as a furniture designer where his work was featured in major design fairs across the globe including Salone de Mobile in Milan.
He later joined renowned interior design firm BTR WORKSHOP as an associate where he worked for more than 10 years helming a range of private resident, residential complex, commercial, hospitality and retail shopping mall projects.
Today, Terence has built a reputation for his impressive portfolio. Combining his creative vision with a highly detailed-oriented approach, he is known for his fresh thinking and highly imaginative approach to design.